Community Consultation Meeting
2021
Kirkland Lake Gold's West Detour Project
Event details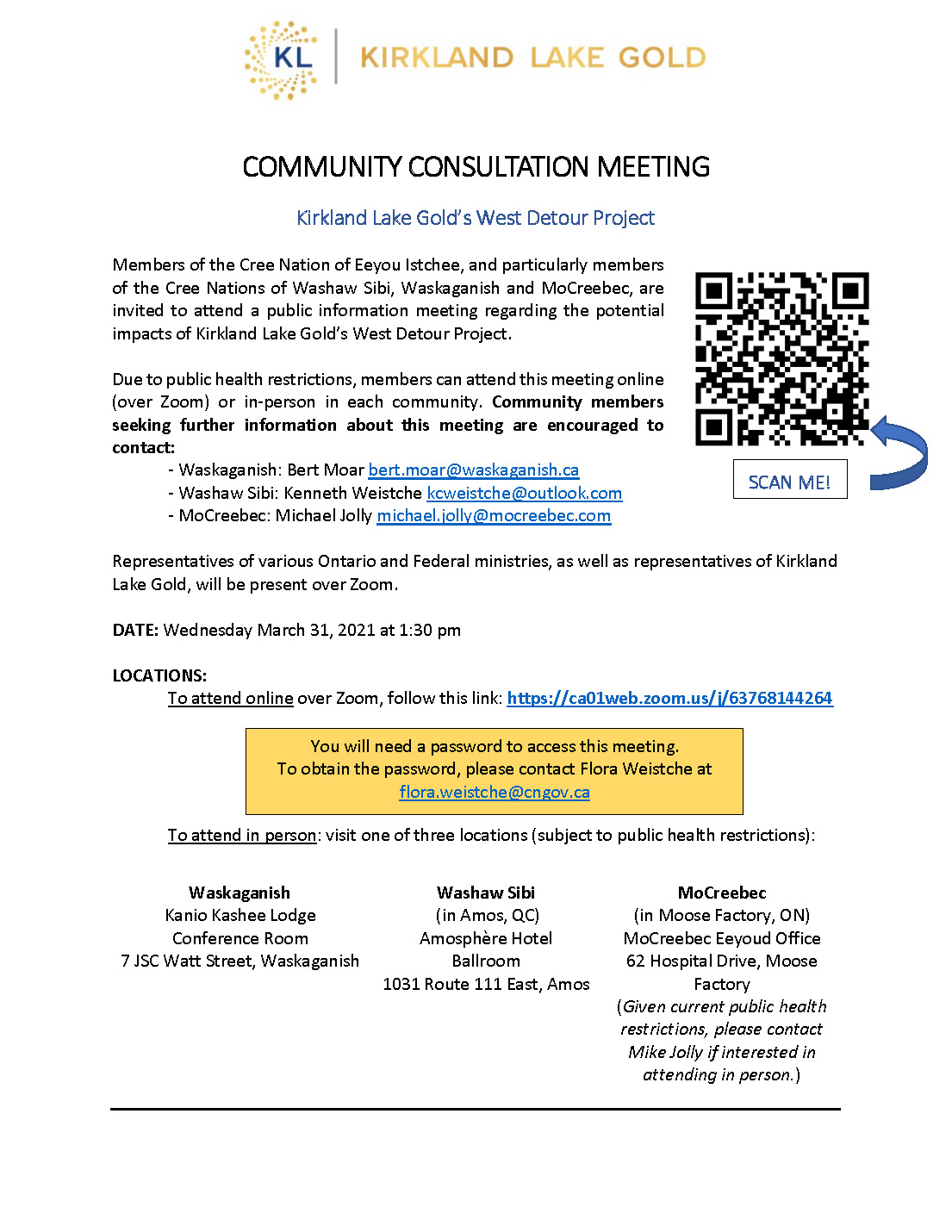 Kirkland Lake Gold's West Detour Project
Members of the Cree Nation of Eeyou Istchee, and particularly members of the Cree Nations of Washaw Sibi, Waskaganish and MoCreebec, are invited to attend a public information meeting regarding the potential impacts of Kirkland Lake Gold's West Detour Project.
Due to public health restrictions, members can attend this meeting online (over Zoom) or in-person in each community. Community members seeking further information about this meeting are encouraged to contact:
– Waskaganish: Bert Moar bert.moar@waskaganish.ca
– Washaw Sibi: Kenneth Weistche kcweistche@outlook.com
– MoCreebec: Michael Jolly michael.jolly@mocreebec.com
Representatives of various Ontario and Federal ministries, as well as representatives of Kirkland Lake Gold, will be present over Zoom.
DATE: Wednesday March 31, 2021 at 1:30 pm
LOCATIONS:
To attend online over Zoom, follow this link: https://ca01web.zoom.us/j/63768144264
To attend in person: visit one of three locations (subject to public health restrictions):
Waskaganish
Kanio Kashee Lodge Conference Room
7 JSC Watt Street, Waskaganish
Washaw Sibi
(in Amos, QC)
Amosphère Hotel
Ballroom
1031 Route 111 East, Amos
MoCreebec
(in Moose Factory, ON)
MoCreebec Eeyoud Office
62 Hospital Drive, Moose Factory
(Given current public health restrictions, please contact Mike Jolly if interested in attending in person.)